Nu har alla Y-kattungarna flyttat och Svea har flyttat hem till sig.
Allt har gått bra med flyttarna


Tack Lena för att det gick så bra att låna Svea!

Nu är alla kattungarna i Z-kullen tingade till fantastiska nya hem.
Det är så skönt när man känner att det blir alldeles rätt


Veckans bilder på Z-kullen är inte så många, svårt att ta med små kattungar som inte vill vara stilla. Ljuset är inte det bästa den här årstiden heller. Men Liselott kämpar på riktigt bra med kattungar och kamera

Tack vännen!
Nedan är det lite blandade bilder på flyttade Y-kattungarna och bonusbilder på Z-kullen.
All kittens in Y-litter has now moved to their new fantastic homes


Svea har moved back to her home, thanks Lena for everything!
All kittens in Z-litter is now booked to perfect homes.
New photos on them and down below you can see some bonuspictures

Ovanför så är det Sigge (Yang) som sover och umgås med sin morbror Sune (Xit)
Nedanför så ser man Yoga sova på soffan i sitt nya hem.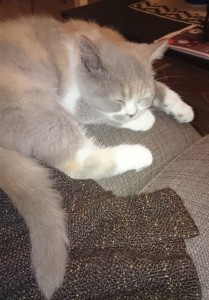 Nedanför så är det först Zoprano som busar med Zivan och sen en härlig gruppbild