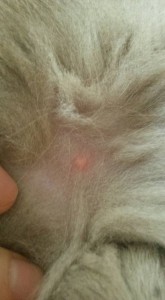 Man kan ju undra vad det där är för bild men det är beviset på att Iris är dräktig!
Med andra ord, hallontuttar




Så nu väntas det två kullar här hemma, rena babyboomen.
För information om kullarna, gå in på kattungesidan och läs mer.
Iris is pregnant


We expect two litters, one litter in begining of April and the other litter in the middle of April. For more information look at kittens-side.