BSH a (blue)
Genetic: gen ticked, chocolate. Does NOT carry longhair
Born: 2020-07-03
HCM: Normal 2021-06-21 + 2022-05-30
HD: 2021-06-21    1+1
PKD: DNA tested lines
Photos
Pedigree
Måns is a very promising and lovely boy who will hopefully give me and some of my breeder friends amazing kittens next year.
He lives with Josefin in Uppsala. I´m so grateful you wanted to be his co-owner!
Thank you very much Anna Tonér at SE*OneWish for letting me buy this superboy!!
All photos from his breeder is taken by Anna Tonér.
Now has Måns retired and lives a perfect life with Josefin.
———————————————————————————————————————————-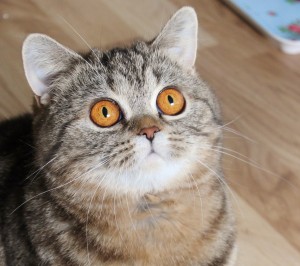 Ch S*Sagotassens Geisha
BRI n 22 (black classic tabby)
Colour genetic: carrying dilution, colourpoint, chocolate
Born 2014-07-11
HCM: Negativ 2015-05-29, 2016-07-15, 2017-10-13
PKD-DNA: Tested parents
HD: 2015-05-20
Pedigree
Litter: C2 + D2 + H2
Photos

Mia has moved to my aunt Anita in Malmö 🙂
I think both are happy together 🙂
Unfortuntly my Anita died summer 2021 so Mia moved to her neighbour.
————————————————————————————————————————————————–